45 billion observations while listening to Indigo Girls spotify station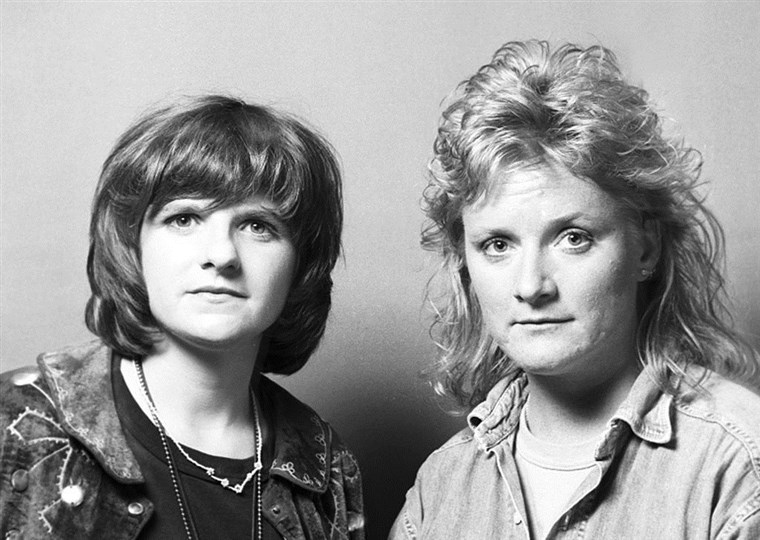 Things that make me laugh: when Sarah McLachlan says "there's no one left to finger"
How Janie said it was so obvious that song was about her grandmother.
Did she really know? Was it really obvious? Or did she read it on the Internet / did the Internet even exist.
That feminism has been getting kind of retro lately, maybe it's not the first time.
I take a selfie in the bathroom mirror with a pink headband holding my bangs back.
I'm growing out my bangs / it's retro.
It's a nod to myself in high school.
A shout out to myself & that things are changing.
A powder blue t-shirt with velvet dragon decal on it.
A thing I wore to Lillith Faire
I thought, I really need a room of my own
If that's what it takes these days
To find yourself, your voice.
To actually be in the woods.
If we got married
In the woods, like hippies but not.
Like feminists / in the sad gay 90s.
Things that Make Me Cry:
I thought I wanted to be the other girls but maybe I don't.
I imagine my karaoke rendition of Galileo, it floors you.
I imagine my rendition of Possession by Sarah McLachlan and I'm shaking my ass & it's so smart & I'll never sleep.
That scene in the show where they're triumphantly singing along to the Indigo Girls in the car on the way to the women's music festival.
& you might feel a shaft of light make its way across your face.
I want my room to be so full of light.
So 90s it makes the song skip.
Poem
My nose is bleeding should I go see my Sex and the City doctor.
She'd be like, did you move here for a man or a job.
I'm walking in Midtown, I'm like, good for you in your colorful outfit. Sad for a sea of black.
I went to California with a youthful aching in my heart and I left it there / didn't.
My sister and my text relationship is so I do this, I do that.
I text her, I washed my new bra and it's so tight I keep gasping for air in my cubicle.
She writes back I fell asleep on the train and when I woke up a spider was dangling in front of my eyes.
My cartoon world where I live with you. Where I float across the ocean.
Where I miss my stop every day but it doesn't matter / girl power.
Sometimes I post the things in my head onto the Internet for a certain few.
For those to whom I'm like "good for you," your pastel dress in a sea of black
Maybe I'm like, hungry. Gluten free Oreos. Can't hear myself think.
I'm listening to Free Fallin' on my Walkman.
I go into the grocery store and they're playing it too.
Cause I forgot the line & Tom Petty reminded me.
I wanna fly down over Mulholland / wanna collapse on the grocery store floor.
The universe told me to go into the grocery store and buy just cookies and milk.
D would've called it a "heroic purchase."
My therapist was like, maybe you're not over it.
The taste of the milk bored my tongue.
I'm walking around the grocery store.
Epic by Faith No More.
I'm running on the treadmill listening to Lady Gaga and thinking about my sister.
And my sister calls and leaves a message that she was listening to Lady Gaga on the treadmill and thinking of me.
I send her two girls and two crystal ball emojis.
What if C dies. And I'm like, how could you not need poetry?
Walking home w/ my grocery bag on my arm, it feels like a tourniquet.
Use my computer as an extension cord. Exercise or sleep.
You emptied the laundry all over the bed and I screamed like a bomb exploded.
All the things that I'm interested in.
Will I take a selfie at the end of the world.
Marisa Crawford is a New York-based writer, poet, and editor. She is the author of the poetry collections Reversible (2017) and The Haunted House (2010) from Switchback Books, and the chapbooks Big Brown Bag (Gazing Grain) and 8th Grade Hippie Chic (Immaculate Disciples). Her poetry has appeared in publications including Prelude, Bone Bouquet, Glittermob, and No, Dear, and she's written about feminism, art, and pop culture for Hyperallergic, BUST, Bitch, Broadly, The Hairpin, and elsewhere. Marisa is the founder and editor-in-chief of Weird Sister, a website and organization that explores the intersections of feminism, literature, and pop culture.